More and more children are getting ahead in the longevity game. 
By: Jay Apking 
It is a snowy Saturday morning in Cincinnati, Ohio and high-school student Brooke is doing a mat class at The Pilates Loft.  She has become somewhat of a regular thanks to her mother Mary Howard who has been a client at the Loft for several years now.  "I started doing Pilates and the first thought I had was, 'why did I not know about this earlier in my life?!'" says the energetic Mary.  "The second thought I had was 'I have to get Brooke over here right away.'  I just don't want her to have the same health issues that I have and I know Pilates would probably prevent that."  The health issues Mary is referring to are something to which most adults can relate; stiff back, poor posture, loss of flexibility, and every day aches and pains. 
Julie Toren, co-owner of The Pilates Loft adds, "It is the future.  People are starting to realize Pilates not only helps to correct injuries and normal problems caused by aging, but prevents them from ever occurring.  Smart parents like Mary are getting their children involved while they are young, in hopes of making their lives easier as they get older."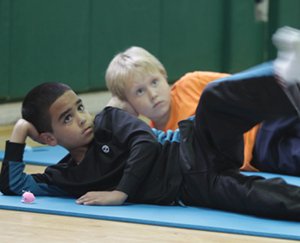 Eli is a nine year-old athlete in Knoxville, Tennessee.  He is on all-star baseball and basketball teams and wants to be a professional in either of these sports one day.  He realizes the Pilates he is doing may give him a big advantage, but that is not the only reason he does it.  "It's fun," says the talented young man.  "I like it because of all the different things I get to do.  Rolling and stretching and getting stronger…it's like eating healthy food that tastes good, too."  His mother, Leslie Andrews, agrees, "I am a believer in it.  If Eli likes it and it is good for him, how could I argue with that?  I am in my late 30's and I have already regained so much of my younger flexibility by doing Pilates; flexibility I lost when I had Eli.  If he can keep his flexibility, I know it will help him be a better athlete and at least help him stay injury-free." 
It goes much further than that for Jay Apking, owner of Olympus Pilates in Knoxville, TN, "I see a lot of physical benefits for the kids doing it, but for me it doesn't compare to the mental and emotional benefits."  Apking not only teaches Pilates, but has his own children's theatre company as well.  "I have been teaching children in the arts for years.  Before I teach a class or have a rehearsal, I will warm the group up with Pilates.  It clears their heads, gets them in touch with their bodies and makes them more creative."   
So, can Pilates actually make children smarter?  "Adults complain all the time about nagging pains or injuries," adds Apking.  "That "pain" gets in the way of life.  It is a mental and physical distraction which keeps us from being our mental and physical best.  What if we can teach children to be more aware of their bodies and eliminate the normal adult pain and injuries as they get older?  It would allow them to be more active and more creative in whatever career they choose.  That sounds smarter to me."     
This system is already providing benefits to children all over the country and around the world. 
13 year-old Valeria Lozano is taking classes with her friends in San Pedro, Mexico. "I decided to join because my friends told me how much fun it was," says the lithe Valeria.  "I love it because it improved my dance technique and my posture.  I have seen clear changes since I joined in."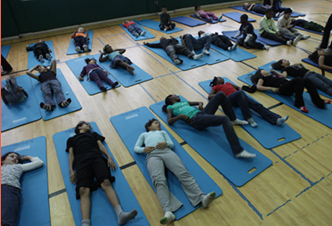 What do we do about Pilates for kids in America?  How do we get our children involved in a program which has been appropriately nicknamed "intelligent exercise?"  Maybe help is closer than you think. 
It is not necessarily true that Pilates will make your child smarter than you.  It may not even make your child taller or more fit than you are.  If it gives her or him the opportunity to live a longer and healthier life, especially in a time when exercise is hard to come by, wouldn't you be wise to let them try it?  And if it makes your child stronger, more flexible and more physically and emotionally secure, the confidence which comes with "intelligent exercise" will last your child a lifetime.   
For more information on Pilates in your area or bringing Pilates to your child's school system, please visit: www.pilatesmethodalliance.org 
---
Jay has been teaching Pilates since 1997.  He is currently co-owner of BodyMind Balance in Cincinnati, Oh and owner of Olympus Pilates in Knoxville, Tn where he resides. His background includes golf and theatre. He was a member of the golf team at the University of Tennessee, where he earned his undergraduate degree.
He is also the director of Great American Child, a company he founded, focusing on making children healthy, cultured and more well-rounded. 
Originally Posted March 2012 on Pilates-Pro.com
Comments
comments